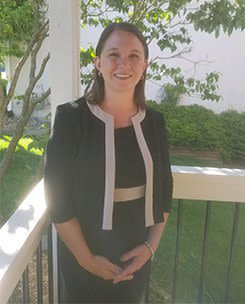 My decision to take the LSAT was made on a whim, but I chose to become an attorney and practice law the way I do today very deliberately. Let me explain…
I was a nurse for ten years, and although I loved caring for my patients, I eventually became burnt out and realized it was time to make a change. I missed the research and intellectual rigor of school and toyed with the idea of getting my master's degree in history, the subject I enjoyed so much. Of course, my husband had other ideas and suggested that I study something more "vocational." In the back of my mind, I knew he was right, so I thought, "Why not take the LSAT just to see how I do?"
To my surprise, I scored incredibly highly and began to seriously consider the prospect of attending law school. Becoming an attorney actually seemed to incorporate all of the things I loved — helping others, creative problem solving, research, and history. The more I thought I about it, the more I realized that the law could be my calling.
Holistic healing extends beyond the world of medicine. When you're facing a difficult situation, you deserve an attorney who will shelter your mind, body, and spirit.
Today, I'd have to say those early instincts were spot-on. Yet, I'd never trade my past experiences for the opportunity to attend law school straight out of college. You see, being a nurse taught me a lot about what it means to truly serve others. There's a lot of talk about "holistic care" in the nursing community, and I'd like to carry that mindset over to the legal world, as well.
The best attorneys protect the physical, mental, and emotional well-being of their clients. After all, a case does not end in the courtroom — it often impacts every area of your life. True advocates are there to listen to their clients, refer them to additional services as needed, and ensure they are safe from harm, and that is exactly what I strive to do at my firm.
I have a great deal of empathy for my family law clients because I'm a mother myself. Both my 5-year-old son and my 15-year-old daughter play soccer, and I actually coach my little one's team. I can't imagine what it would be like to miss their games or our summer float trips in southern Missouri, so I do my best to ensure my clients have the same types of privileges with their own children. No dispute or circumstance is worth giving up time with your kids or money you could better spend toward those precious experiences, and I never forget that.
BAR ADMISSIONS
EDUCATION
Juris Doctor - University of Missouri, Kansas City

Bachelor of Science in Registered Nursing - University of Missouri, Kansas City
PROFESSIONAL ASSOCIATIONS & MEMBERSHIP
Board of Directors - Kansas City Academy

Volunteer - Kansas City Irish Fest

Former President - UMKC Health Law Society

Former Staff Member - UMKC Law Review

Former Staff Member - UMKC Urban Lawyer